Samsung offers its foldable display to Apple and Google, just smaller
19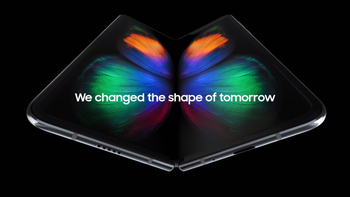 With the above slogan for its first bendable phone, the
Galaxy Fold
, it's not hard to believe the latest Korean media reports that Samsung has offered the technology to Apple and Google as well.
According to industry insiders, Samsung has provided a foldable display panel to the two Silicon Valley juggernauts that is 7.2 inches when unfurled, as opposed to the 7.3" OG Fold. While that may seem petty, it could also stem from the fact that Samsung has apparently provided only the panel and a set with the display drivers, connectors, batteries, etc., all you may need for evaluating the concept as a reference board.
It turns out that Samsung is willing to sacrifice some exclusivity in order to grow the foldable phone ecosystem as quickly as possible. It did the same thing last year when it provided samples
to Chinese phone makers like Xiaomi and Oppo
, as the other juggernaut - Huawei - ultimately
went with BOE
for its first foldable phone, the
Mate X
.
If Apple and Google like what they see, and given the scope of their powerful hardware and software reach, Samsung is in for a huge jump in demand for its foldable OLED panels, and a jumpstart to an ecosystem that didn't exist until now.
If that's the future of smartphones, Samsung wants to be at the forefront, but also to increase the mass appeal and lower the prices as soon as possible, so that the rise in foldable handset shipments can offset the stagnation in the "rigid" part of the industry.
April 26th
can't come soon enough for us to peruse and abuse the Fold we've been waiting to bend for about seven years now.