Samsung says Galaxy S4 sales are alive and well, confirms Galaxy Camera 2 for June
34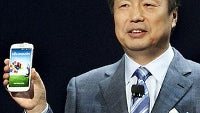 Bearish reports on
Galaxy S4
sales have eroded Samsung's stock value in the last couple of weeks and now Samsung has stepped up to say those reports were not based on the reality.
"I can say sales of the Galaxy S4 smartphone are fine. It's been selling well,"
Samsung's JK Shin said for the Korean media.
"The report (JPMorgan's) was based on its own analysis. Probably, the bank may have corrected its previous bullish estimate about the S4 sales,"
he added.
It is rare for a company like Samsung to respond directly to a media report like this. Earlier, institutions like JP Morgan and Morgan Stanley both lowered their outlook on Samsung.
This statement though shows that Samsung is definitely confident in sales of its flagship that reached a record 10 million sales within its first month of availability. Moreover, the Korean company said it has no plans to settle with Apple on any of the around 50 ongoing patent disputes spreading around 4 continents.
Samsung also used the occasion to confirm it will indeed unveil its new Android-based Galaxy Camera 2 at an event taking place in London on June 20th.
source:
Korea Times
via
SamMobile