Samsung 's mobile profits rose 52% year-over-year in Q2
24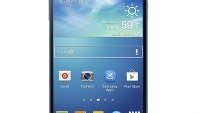 After
estimating its second quarter earnings earlier in the month
, Samsung posted its official results for the the period on Friday morning. Profits at the Korean based manufacturer's largest profit contributor, the
mobile business
, rose 52% year-over-year to 6.28 trillion won for the second quarter ($5.7 billion USD), but dropped 3.5% sequentially from Q1. Mobile profits were led by the launch of the
Samsung Galaxy S4
, the company's latest flagship Android model. 76 million Samsung branded smartphones were sold in the second quarter. Revenue for the division rose 9% from Q1 to 34.58 trillion Korean Won ($31.1 billion USD) and 54% from 22.43 trillion won ($20.2 billion USD) in the same period of 2012. For the first quarter, Samsung's mobile division garnered 31.77 trillion Korean won ($29 billion USD) in sales.
Analysts are concerned over what they perceive to be slower smartphone sales in the immediate future. Samsung says to expect strong sales, but at a slower growth rate than what was seen in the second quarter. "
The strong growth streak for the smartphone market is expected to continue in the third quarter albeit at a slower pace
," read a statement from the Korean manufacturer. TongYang Securities forecast sales of 27 million units of the Samsung Galaxy S4 for the current period, up from 22 million sold in the first quarter. The investment house sees smartphone sales led by the unannounced
Samsung Galaxy Note III
and the
Samsung Galaxy S4 mini
.
Samsung's smartphones are expected to account for 70% of its mobile phone shipments in the third quarter thanks to strong results in the low to mid-range market. The larger number of these models are expected to lower the average selling price of Samsung's smartphones in the upcoming quarter. Tablet shipments will rise 30% from Q2, outperforming the global tablet market.
Thanks to declining prices, some analysts expect to see further growth in smartphone sales in emerging markets off-setting slower sales in developed markets. According to data compiled by Bloomberg, since the beginning of 2012 the average price of a smartphone has declined from $450 to $375. Samsung had 30% of global smartphone sales in 2012 compared to 19% for Apple according to Bloomberg.
"The mobile business, the company's biggest bread earner, has already peaked out in the first quarter. That is increasing uncertainty over the company's overall profit growth next year."
-Lee Jae Yun, analyst, Kiwoom Securities Co.
"The growth momentum, as seen in the past, is unlikely to be sustained. But since global smartphone penetration currently remains at 49 percent, the volume shipment will continue to increase until it reaches a level of about 70 percent."
-Doh Hyun Woo, analyst, Mirae Asset Securities Co. in Seoul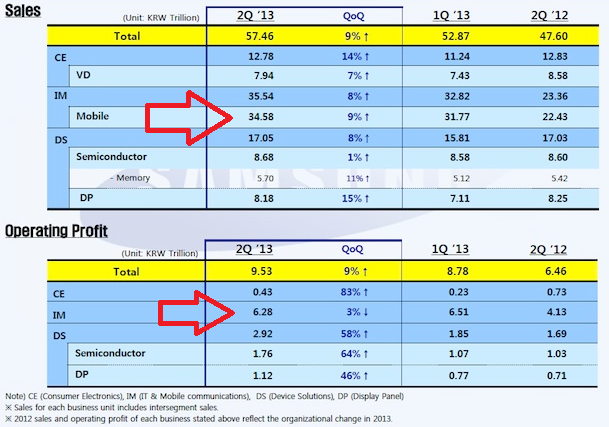 Samsung's mobile division performed well in the 2013 second quarter compared to the same period in 2012
source:
Bloomberg
,
Reuters
via
Engadget