Samsung projecting it made $8.33B in profit in Q2
11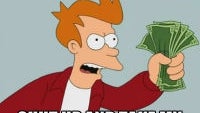 Q2 looks to be a record breaking quarter for Samsung, and we expect that Q2 will continue to be a big quarter for the Korean company, because that's when the new Galaxy S comes out, and a new Galaxy S phone is basically like printing money for Samsung. The official numbers don't come until the end of the month, but early projections from Samsung are saying that the official report could see a record $8.33 billion in profit for Q2.
Of course, despite the fact that Samsung is estimating a record quarter, this is actually disappointing news because analysts hate being wrong. Reuters had polled 43 analysts on what they expected from Samsung's Q2 report, and the average profit forecast from those analysts was 10.16 trillion won (~$8.9 billion). Samsung's estimate came in at just 9.5 trillion won ($8.3 billion), so now analysts are concerned about the growth of the smartphone market.
To this, we have to just call out analysts on being ridiculous. Whatever analysts project means nothing to anyone except analysts. So, if they are wrong, it should be expected since they aren't working with real numbers but estimations based on other estimations.
If Samsung's numbers hold true, it will mark an almost $2 billion increase from
Q1's $6.4 billion profit
, and a $3 billion year-on-year improvement over
Q2 of 2012
. That's solid growth, regardless of what the analysts expected. The official numbers from Samsung are planned to be announced July 26th.