Samsung reconfirms Galaxy S II is getting ICS
39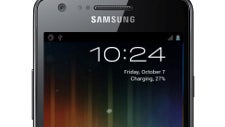 The Samsung Galaxy S II is most probably the single best selling high-end Android for 2011, but just like most every other handset around it's running on Android Gingerbread. With the announcement of the Galaxy Nexus and the wind of change coming from Android 4.0 Ice Cream Sandwich, Gingerbread will soon start to feel like yesterday's platform.
Good news is that the Galaxy S II is not going to keep that Android version forever. We've already heard Samsung Italy spill the beans about the
upcoming update to ICS for the S II
, but now Samsung's UK Twitter account reconfirms that keeping all doubts away.
"Hi, good news - the Galaxy S II will be receiving ICS, but there are no dates confirmed as yet. We will keep you posted,"
@samsunguk tweeted.
Now, our guess here would be for early 2012 as the majority of phone makers are aiming to roll out the ICS update around then, but we hope we've erred and it's coming even earlier. In the meantime, you can already get the ICS-based latest version of
MIUI ROM on your S II
- not a bad alternative, is it?