Samsung president confirms the Galaxy Gear smartwatch will be unveiled on September 4
29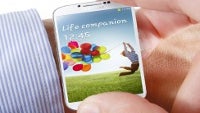 As it often happens with Samsung products, a high-ranking executive from the company has confirmed to the media that a certain device is indeed going to be announced very soon. In this case, it's the Galaxy Gear smartwatch, as Samsung Mobile VP, Lee Young-hee, has informed the KoreaTimes that the intriguing device will see the light of day on September 4 - just before the official start of the IFA 2013 expo that's going to take place in Berlin.
Thankfully, the VP has even shared some interesting details about the device itself. Most important, perhaps, is the fact that the Galaxy Gear will not feature a flexible screen. What's more, Lee Young-hee describes the Galaxy Gear as a "
wearable concept device
", and he also states that Samsung is "
confident that the Gear will add meaningful momentum to the mobile industry.
" Beautiful words coming from the mouth of an ambitious executive, but exactly how much value such a gadget is going to bring to the mobile industry is yet to be seen. What seems more certain is that Samsung is currently considering its upcoming smartwatch more of an experiment that will be used to see if there's a real niche for such products.
It's now pretty much certain that the Samsung Galaxy Gear will be running Android, and we're curious to see exactly what kind of custom user interface is going to be found on top, in order to make the functionality of the device more easily accessible, considering the presumably tiny screen. Unofficial reports are claiming that the Gear smartwatch will sport a 1.67" AMOLED (320x320 pixels) display, along with 1GB of RAM, 2MP camera and the Exynos 4212 chipset.