Samsung pits the Galaxy Note 10.1 content creation abilities against the new iPad
22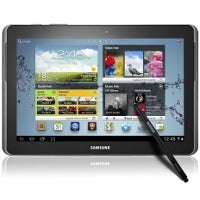 Samsung has published a comparison table that highlights why its
Galaxy Note 10.1
tablet that got announced last week at the MWC expo, is better for content creation than Apple's
new iPad
.
The comparison emphasizes the ability to work with two apps at a time, if they support Android's instancing Application Programming Interface (API). The
Samsung Galaxy Note 10.1
comes with default Samsung apps that allow having two apps side by side, and any 3rd party app that supports the instancing API can replace Samsung's own app on your tablet's screen as well.
The next focal point in the comparison is the stylus, or, to be more precise, the combination of a Wacom digitizer and a pressure sensitive stylus is superior to your average capacitive stylus sold for the iPad.
There are some other advantages, according to the Koreans, all of which are listed in the tablet below. Too bad that everyone was expecting a groundbreaking high-res tablet from Samsung, so the undisputable content creation merits of the
Galaxy Note 10
.1 kind of went unnoticed when people realized it has a standard resolution.
Do you agree with Samsung on the content creation front, or do you think that those advantages pale in comparison with the 2048x1356 pixels display on the new iPad?