Samsung patents different home key and rear finger scanner, hinting at new Galaxy designs
31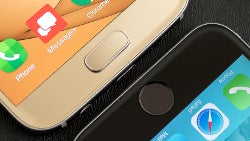 Samsung has apparently been toying around with different shapes and placements for the fingerprint scanner, recent patent applications suggest. While now it has it embedded in the physical home key underneath the display, the patents include both changing the shape, and relocating the scanner altogether.
The shape-shifter is depicted with a square in a circle, instead of the elliptical home key that we have now on Samsung phones, while the mover is placed on the rear of the device. Now, whether these patents mean that Samsung is planning a complete design overhaul for the Galaxy S series next year, remains to be seen, but apparently the tech to
embed the fingerprint reader in the display itself
is still far from mass adoption, or Samsung wouldn't be bothering with these.
Since Apple is rumored to
release an all-glass iPhone next year
, with something like an edge-to-edge screen, Samsung might also be mulling ways to potentially counteract such a move with a svelte new redesign of its own. We'll see.