Samsung patent shows a foldable display that works with the S Pen
15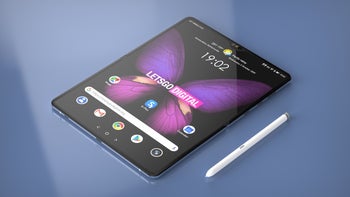 After a lengthy delay, Samsung's Galaxy Fold is now shipping to customers around the world but the company is already looking towards the next iteration of the device. Rumors about it are already circling the internet and today we're getting a hint of what else we might expect from the next Fold.
Found in a
patent application
submitted by Samsung, and
spotted by LetsGoDigital
, is a method for accurate detection of finger and stylus gestures on foldable touch-sensitive displays. The patent focuses specifically on parts of the display that are subject to folding.
This area requires special attention for a couple of reasons. First, the area of the display that bends has worse support because of the hinge and other moving parts that are behind it. This makes it more delicate and sensitive to pressure, especially when it comes to something like the S Pen which has way smaller contact area with the display than a finger. And while that issue can be resolved with improved materials and better design, the other one requires a more complicated solution.
Currently, when using the S Pen the Galaxy Note detects where it is even when you hold it slightly above the display which helps users with precision when using it. Naturally, the indicator is positioned exactly below the tip of the S Pen where the display is closest. With foldable devices, however, there could be multiple points that are equally distanced from the S Pen with neither of them being the correct one for practical use.

Different use cases of the S Pen with a foldable device
To correct that, the device must be capable of determining the exact state of the display, whether it's unfolded, folded (outward folds are supported as well) or semi-folded and if the S Pen is within the folding area of the display. Then the algorithms determine where the correct position of the cursor should be for an intuitive behavior of the device. While that seems like a trivial problem to solve apparently figuring out the correct hovering point of the S Pen is something so complex that it's worth patenting the solution.
It's interesting to note that the illustrations in this patent show a device with two hinges that folds in a Z pattern, something that was present in other leaks as well. The addition of the S Pen to the fold could be a sign that Samsung might merge the two lines and create a Galaxy Note Fold (or Fold Note?). With its large display, a future Fold device fits perfectly with what the Note line has been all about: productivity. With the addition of the S Pen, Samsung can take that to another level.