Galaxy Fold is the hotdog in a new teardown play on how Samsung made it tougher
3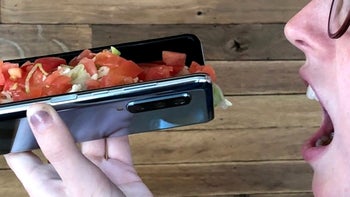 This thing needs more iFixit mustard


Our favorite tinkerers over at
iFixit
have dismantled their most interesting patient to date - the re-released
Galaxy Fold
- and, unsurprisingly, came up with a 2/10 repairability score. What we were more interested to see, though, are the measures that Samsung said it has taken to revamp the assemblage of the Fold and make it more foolproof against tampering and debris.
These two elements were the main culprits behind the 5-month delay in the phone's release, as the first preview units that Samsung sent our back in the spring were not up to snuff for everyday wear and curious influencers that tried to pry the display off.
The box that the new Fold comes in now, is littered with warnings to touch the display gently, and not to peel off anything. Not that Samsung is giving anybody a chance, what with the new display cover wrapping that is now extended over the corners and attached with copious amounts of strip against tampering. Not only that, but it included a new "metal chain" layer underneath it to reinforce the display, too, which can be clearly visible below.
The other new development are the small caps Samsung put over the top and bottom of the screen crease where the thick side bezel gets interrupted to accommodate the folding motion. Previously, the crease ends were exposed, and dust and debris would accumulate to the extent that they prevented the normal screen functioning.
While Samsung has apparently fixed all that was wrong with the Galaxy Fold in real-life usage, we'd have to add that putting a ruler next to the bend showcases just how thick the phone is at the hinge part when closed. Cue the skinny jeans jokes here but yeah, the phone of the future will feel like lugging a Nokia Communicator of yesteryear in your pocket.