Samsung patent reveals dual-screen tablet despite Sony, Kyocera failures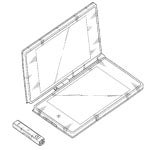 It seems like only yesterday we covered the release of Sony's Tablet P, the dual-screen toting tablet which ultimately was doomed from the start. Before that it was the Kyocera Echo for Sprint trying to use its two screens to win our hearts. Both had the same vital flaw from the start, users don't seem to want a dual screen tablet/phone as indicated by both devices' slow sales.
Recent patent revelations show Samsung is now interested in developing some sort of dual-screen device with a remote. If anyone can make the dual-screen device work, it would be Samsung, but we're doubtful this device will ever see the fluorescent lit shelves of retailers. Regardless of if it were to use Windows Phone or Android, the mobile operating systems and apps simply are not optimized to run on a dual screen device.
Many early adopters of Sprint's Kyocera Echo, a touch screen quasi-tablet phone, report that the device was unintuitive, and difficult to use due to apps not knowing how to handle the screen real estate. We don't think that this Samsung product will ever see the shelves, but if it does, do you think it'll suffer the same fate as dual-screen tablets of the past?
source:
Androidguys