Samsung patent application shows phone unfolding to become a tablet
19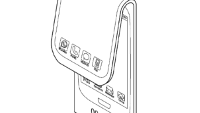 A patent application made by Samsung to the USPTO has been released by the agency today, revealing a smartphone that folds to turn into a tablet. Back in May, it was reported that
the manufacturer is working on a folding phone that has been named "Project Valley."
The phone was reportedly given model number SM-G929F, which puts it one number ahead of the
Samsung Galaxy S6 edge+
. The folding Project Valley phone is expected to be sold in South Korea, several European markets (U.K., Germany, Italy, France and Poland) and the Nordic region.
Several configurations of a folding phone were displayed on the patent application, and sketches of the device even include an iPod icon on its home screen. Despite Apple and Samsung having a contentious relationship when it comes to protecting their own patents, Samsung does make several critical components for Apple's mobile devices.
The patent, titled
Foldable Device and Method Of Controlling The Same
, was submitted to the USPTO on May 26th, 2015. Some questions about the patent remain. For example, it isn't clear if the device closes with the two screenstouching each other or whether the two halves of the back are touching when the device is closed, leaving the screens exposed.
source:
USPTO
via
VentureBeat