Samsung officially unveils the Exynos 9810, touts AI features, advanced 3D "hybrid" face recognition
69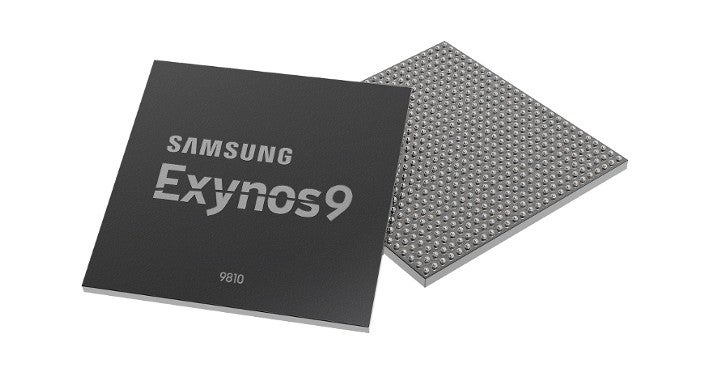 The first true 9-series Exynos is here, and while it's still being built on a 10nm process, it promises increased performance and lower power draw"&nbsp
Back in November, we caught first wind of Samsung's
next-gen Exynos chipset
, which was revealed in passing in press materials from Samsung. However, at that time, information about the new SoC was scant, with details being withheld for a final reveal further down the line. And here we are now, with an official announcement from Samsung, outlining some of the best new features and capabilities of the chipset.
The Exynos 9810 is still being built on Samsung's 10nm manufacturing node, contrary to earlier rumors alleging an 8nm process, but the second-generation 10nm FinFET manufacturing node is promising higher performance with a lower power draw for the new chipset. Furthermore, the Exynos 9810 boasts custom CPU cores, an upgraded GPU, and advanced machine-learning and image-processing capabilities, which will be used for delivering better multimedia experiences and tighter security.
Samsung is yet to announce all specs of the new chipset, but it has revealed that the CPU will have four third-generation custom cores, which are relegated to power-intensive tasks and can operate at a maximum clock speed of 2.9 (GHz), with another cluster of four cores optimized for efficiency. Samsung claims that, with the widened pipeline and improved cache memory of the new chipset, single-core performance will be "enhanced twofold," while multi-core performance will be boosted by "around 40 percent" compared to the
Exynos 8895
.
The Exynos 9810 will power the Galaxy S9 and S9+ in some markets
As was expected, the Exynos 9810 also boasts advanced neural network-based learning capabilities, which will come into play for the new, "hybrid" 3D face recognition system, which Samsung claims utilizes both hardware and software to deliver improved security and realistic "face-tracking filters." Yeah, that last bit means Animoji-style shenanigans. But furthermore, the 9810 features dedicated image processing and upgraded multi-format codec (MFC), which can be used for advanced object recognition and scene categorization, as well as visual and image processing. Samsung says this could deliver advanced stabilization for images and video of up to UHD resolution, real-time shallow depth-of-field simulation in high resolutions, video recording in up to 120fps at 4K, and vastly improved low-light performance. But it this also bodes many improvements in Bixby Vision, which relies heavily on object recognition to deliver results.
"The Exynos 9 Series 9810 is our most innovative mobile processor yet, with our third-generation custom CPU, ultra-fast gigabit LTE modem and, deep learning-enhanced image processing,"
said Ben Hur, vice president of System LSI marketing at Samsung Electronics.
"The Exynos 9810 will be a key catalyst for innovation in smart platforms such as smartphones, personal computing and automotive for the coming AI era."
The Cat.18 LTE modem inside the 9810 is also among the first to offer 6x carrier aggregation (CA), which (in theory) offers 1.2Gbps downlink and 200 megabits per second (Mbps) uplink speeds, a step up from the previous 5CA modem, which capped out at 1Gps.
The Exynos 9810 will be the chipset powering the upcoming Samsung Galaxy S9 and S9+, in some regions at least.