Samsung offers special discounted bundles for each Galaxy S9/S9+ purchase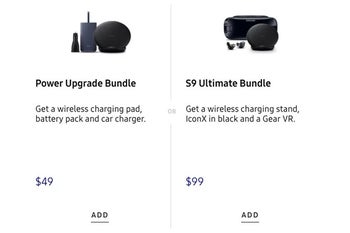 Samsung's new flagships, the
Galaxy S9
and
S9+
have just made their debut in the United States, and customers can get either of them for special prices. The South Korean company has teamed up with US carriers to provide fans with various offers.
While you can get
the cheapest Galaxy S9
(T-Mobile) at Costco,
Verizon is running a BOGO deal
on Samsung's flagships, so you can get two at the price of one. However, if you don't need two Samsung top-tier phones, you might want to take into consideration another promotional offer coming from the South Korean giant.
Besides the trade-in program where customers can exchange their older phones for up to $300 when they buy the
Galaxy S9/S9+
, Samsung offers two discounted bundles for each purchase.
They are called "
Power Upgrade Bundle
" and "
S9 Ultimate Bundle
" and offer great bang for the buck. These bundles will only show up after you purchase the
Galaxy S9
/S9+ via Samsung's online store, but let's see what they contain:
The "Power Upgrade Bundle" sells for $49 and includes:
FEATURED VIDEO
Fast Charge Wireless Charging Stand 2018: usually $69.99
Fast Charge Portable Battery Pack 5100mAh: usually $49.50
Adaptive Fast Charging Vehicle Charger: usually $15.97
The "S9 Ultimate Bundle" sells for $99 and includes:
Gear IconX (2018): usually $198.68
Gear VR (SM-R235) w/ controller: usually $118.83
Fast Charge Wireless Charging Stand 2018: usually $69.99
It's worth mentioning that you must choose one of the two bundles after you buy the Galaxy S9/9+, as Samsung won't allow you to buy both. Also, the bundles will only be discounted until April 6.