Samsung offers its 9,000 mAh portable battery pack at a 60% discount
16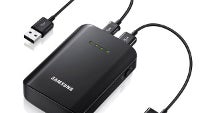 Samsung has slashed the price of its 9,000 mAh battery pack from $99.99 down to $34.99. That's quite the hefty price drop. It's marked as a "loyalty offer", but we had no problem adding the item in a brand new account's shopping cart and still get a $34.99 price tag before checkout.
The product is quite straightforward – it features an on/off switch, 4 LEDs to indicate its level of charge, a USB out and micro-USB in. It comes with a micro-USB to USB cable, a USB to 30-pin (Samsung tablet) cable, and doesn't have a dedicated charger. Chances are you'd have one of your own, but still – just giving you a heads-up.
It may not have the super-fast charge-up times
like other portable rechargers
; however, 9,000 mAh is quite a lot of juice for that price and if you are in the market for a battery pack – you may want to check the source link out.
As smartphones gain bigger screens and their hunger for power grows, so have various manufacturers started developing more and more portable charging solutions. It seems that keeping a charged pack in the car, in the office, or in your backpack will soon not be an uncommon sight. Do you have one? Does it come in handy often?
source:
Samsung
Recommended Stories