Samsung might be prepping a 5.8" ClorOLED display with 16 subpixels RGB matrix, can we say Note III?
63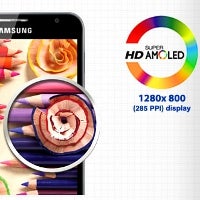 We've been sent some info claimed to be from meetings with Samsung on its AMOLED display developments. The source says they've been told that Samsung is working on a project for a so-called
ClorOLED
display to be ready for mass yields in June 2013.
The specs are nothing short of stunning, if this whole tip is true, since the pixel density has allegedly been disclosed by Samsung to be 358ppi in a 5.8" unit,
made with an RGB matrix
, instead of the PenTile arrangement Samsung's been using for its HD Super AMOLED screens until the
Note II
.
The claimed resolution, however, doesn't really add up to that pixel density. The source says the display is to sport the rather unconventional 1024x980 pixels, which, coupled with the reported 5.8" size, adds up to 244ppi. Here comes the kicker, though - out tipster claims that the RGB matrix of this project, codenamed ClorOLED, will be done with
no less than 16 subpixels
, so make of it what you will. The Super AMOLED Plus in the
Galaxy S II
is listed by Samsung as having 12 subpixels in ads, so we'd have a third more here.
With the
Note II and its unconventional matrix arrangement
Samsung showed that it is not afraid to experiment with the subpixels count, shape and position of its AMOLED displays, and produced its brightest and most discernible HD AMOLED screen so far, so an alternative arrangement is at least plausible.
This crazy amount of subpixels would mean much greater image clarity and definition, so we are all for ClorOLED, as utopian as it may sound. Mass June 2013 production sounds just about right for a Galaxy Note III release, so we will keep an eye for any rumors on that front.
Thanks for the tip!