Samsung might allow you to uninstall pre-installed apps (bloatware) from the Galaxy S6, S6 edge
45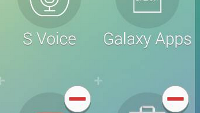 Just like previous Samsung flagships, the brand new Galaxy S6 and S6 edge will ship with a slew of
preinstalled apps
. Most of these provide users with free access to premium services, but let's face it, not everyone is keen on having such apps, often referred to as "bloatware".
Thankfully for all those that have been eyeing the Galaxy S6 or S6 edge with pleasure, it appears that users will be allowed to get rid of the pre-installed apps without much hassle. It seems that apart from disabling the apps (which has always been one of the ways to remove the clutter in your app drawer), you'll also be able to uninstall them from the get-go, without the necessity of root access.
This move comes in accordance to a relatively new South Korean law which states that all apps should be user-removable. While this will most certainly be the case for the Galaxy S6 and S6 edge units that will be sold in South Korea, we can't say if users from the rest of the world will be able to follow suit and uninstall the undesired apps from their Samsung flagships.
Here's to hoping that this will be the case indeed.