Samsung making a social network of its own to span across all of its devices and more
9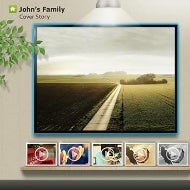 Unfazed by Apple's unsuccessful attempt to launch its own social network with Ping, Samsung is working on its own solution, which might be available in the first quarter of 2013.
The service will leverage the in-house
Family Story app
, which allows users to share thoughts, pics and videos, chat and set schedule reminders. Samsung got the idea from the success of its homebrew
ChatON instant messaging app
, which is now available on most major platforms. A Samsung official commented about the upcoming social network:
By the end of the year, we will have a polished and finished version of Family Story that will be offered first to Samsung device users for free. The new service will become available in the first quarter of next year at the earliest. The eventual goal is to expand our social media service across different devices from different companies across different mobile platforms. That includes cameras, televisions and blue-ray players.
We are confident that the service will be popular globally. That means we need to guard against the possibilities of a data bottleneck. That's why we want a server-based computing structure and disperse with a network of servers across different countries.
The ultimate goal is to be able to first spread it to Samsung devices, like smartphones, tablets, computers, cameras and TVs, and then make it platform-agnostic. Another intention is for the service to be bound with Amazon's cloud computing platform. A piece of funny trivia is that internally the project is called Samsung Facebook, but the final name hasn't been decided yet.