Samsung launching a transparent display to market, 90% more efficient than a regular LCD
7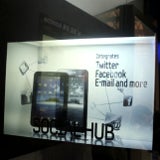 Samsung is no doubt at the forefront of new screen technologies in the last few years. Its R&D department has already commercialized the Super AMOLED display in the Galaxy S phone line, and now it's time for the
flexible
and
transparent
screens. Samsung has demonstrated those at various trade shows already, including
CES in January
, but it's great to hear things are moving along with mass producing the innovations.
The company is starting commercial production of a
22" transparent display
, with both black&white and color versions, which have 20% and 15% transparency, respectively. An added bonus is the massively
increased efficiency
- these screens consume just 10% the power of their LCD counterparts.
If you are wondering about the resolution, it is WSXGA+ (
1680x1050 pixels
), the display has 500:1 contrast ratio, and offers both
HDMI and USB ports
for hooking it up. We are curious if Samsung can implement those for smaller gadgets like phones and tablets at some point, like what Sony Ericsson did with the
Xperia Pureness X5
, as we can think of various ways this could be beneficial. While we are wondering, have a look at a cool demo of the technology, involving a goldfish, and some water.
source:
SamsungHub