Samsung hits five-year high in Europe as Apple and Huawei tumble
14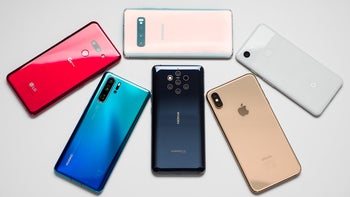 Entering the US smartphone market is far from easy because brand loyalty is high and most devices are purchased via carriers. Europe, however, has always been a different story due to the popularity of unlocked smartphones and a lack of brand loyalty, and it seems the
most recent quarter
was no different.
Samsung's market share is at its highest level since 2014
Leading the European smartphone segment was Samsung who hit a five-year high during the second quarter of 2019. The company's shipments grew a solid 20% year-on-year from 15.3 million to 18.3 million units and its market share skyrocketed to an incredible 40.6% from 33.9% just twelve months earlier. The improvement means that Samsung now controls more market than Huawei and Apple combined.
As noted by
Canalys
, "Samsung has obviously had enough of losing share in Europe," hence its new strategy. The company has finally shifted focus away from profit margins in favor of maintaining a strong presence across the continent and it seems the new Galaxy A series is a prime example of this.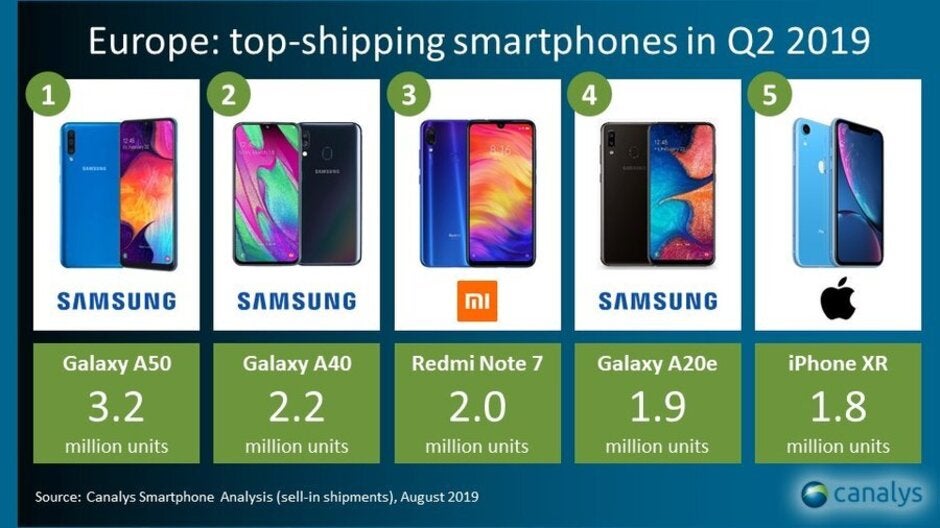 The brand's low-end and mid-range smartphones were undeniably the true driving force last quarter. Combined, the lineup sold a total of 12 million units and accounted for three of the five best selling devices. These were the Galaxy A50 and Galaxy A40 in first and second place with shipments of 3.2 million and 2.2 million respectively, and the Galaxy A20e which followed in fourth place with 1.9 million sales. Rather impressively, this trio combined with the Galaxy A10 outsold the entire lineups of every other brand.
Huawei and Apple sales both dropped sharply
Following Samsung in a very distant second place was Huawei who accounted for 18.8% of the smartphone market and shipped 8.5 million units. The numbers are still impressive but represent a decline of 16%. Just twelve months earlier, the company shipped 10.1 million devices and accounted for 22.4% of European sales.
Huawei's weak performance can be attributed to the ongoing trade way between the US and China. The situation should improve slightly this quarter but things could soon escalate again as President Trump
recently told reporters
outside the White House that the US isn't "going to do business with Huawei."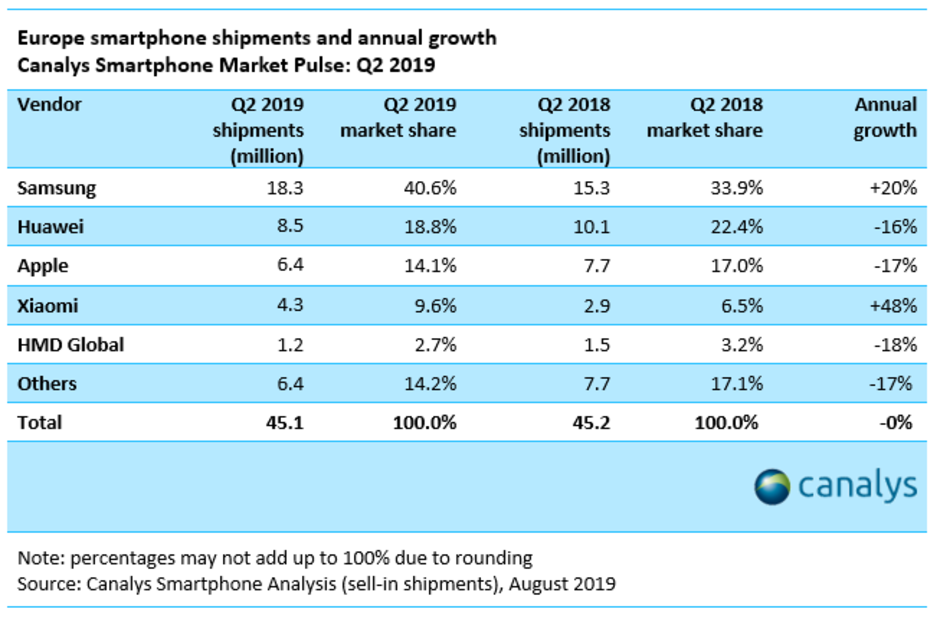 Moving on to Apple, the Silicon Valley-based company sold 6.4 million iPhones throughout the quarter and held a market share of 14.1%. The iPhone XR was also the fifth best-selling smartphone with shipments of 1.8 million units. Not everything's positive, though, as the results actually represent an annual drop of 17% from the 7.7 million devices and 17.0% market share it posted a year earlier.
Apple's sales are expected to drop further this quarter as it prepares to launch the iPhone 11 series, or
whatever it's called
, in late September which will restart the company's annual sales cycle.
Xiaomi posted strong growth but Nokia shrunk slightly
Xiaomi's focus on price-sensitive markets continued to pay off as it posted year-on-year growth of 48%. The brand's sales increased from 2.9 million units in 2018 to 4.3 million this year, something that has also pushed its market share up to 9.6%. According to
Canalys
, retailers and partners are relying more than ever on Xiaomi to substitute Huawei in light of its issues with the US government. Xiaomi's early bet on 5G connectivity also appears to be paying off.
Completing the top five was HMD Global's Nokia which shipped 1.2 million devices during the quarter. The Finland-based brand accounted for 2.7% of the market, down from the 3.2% it controlled a year earlier, but things should improve in the second half of the year once it launches the
Nokia 5.2, Nokia 6.2, and Nokia 7.2
at IFA 2019 next month.