Samsung hits back claiming the return rate of the Galaxy Tab is 2% rather than 16%
9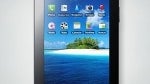 Not one or two thinkers have said that every thing we think and see is nothing more than a perception of the brain, and yet, there is a fine line between what's real and what's not. However, two disputes related to Samsung are blurring this line a bit, so judge for yourselves.
First, it was the controversy whether Samsung has
sold 2 million
Galaxy Tab units, or it has merely
shipped 2 million
Galaxy Tab units to retailers and carriers.
Now the Korean manufacturer is in the midst of another dispute - it was widely reported that the return rate of the
Samsung Galaxy Tab
is
15-16%
, which, if true, undoubtedly proves that the
iPad
is standing its ground.
It didn't take long before Samsung responded through its official blog, claiming these figures are
pure fiction
and the return rate is "
below 2%
," (which is similar to the iPad's return rate):
"The return rate of the Galaxy Tab in the US as claimed by an North American marketresearch firm is incorrect. According to Samsung Electronics Mobile Communications Business, the return rate is below two percent."
The official response from Samsung makes a world of difference, since a return rate of 2% will mean one thing, and a return rate of 16% completely the opposite. Which version seems more likely to you?
via
Samsung Tomorrow
and
UnwiredView