Samsung has manufactured over 300 million AMOLED displays
12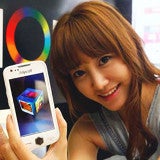 Samsung has been using the AMOLED screen technology in its better handsets, including the Galaxy S and Note series, for quite some time now, and it doesn't seem like the company has any intentions to switch back to LCD. However, while some users simply adore the AMOLED displays, others can't stand them. To us, the technology is still a bit controversial. We do love the incredible contrast and vivid colors, but at the same time the color temperature is obviously off, with white appearing somewhat bluish.
Anyways, love it or hate it, Samsung has not produced more than 300 million AMOLED displays, and as the manufacturer's mobile device business flourishes, it's getting better and better at producing them. For example, it's said that the first 100 million AMOLED panels took almost half a decade to build. The second 100 million were produced in about 11 months, and the most recent 100 million panels took just 7 months to complete.
We've long disliked the unnatural colors of Samsung's AMOLED screens, but the recent advancements in the technology, as seen in the wonderful screen of the Galaxy Note II, show that Samsung is making real progress. We can't wait to see if the company is going to improve its tech even further this year!
via:
AndroidAuthority