Samsung has made 200 million AMOLED panels
10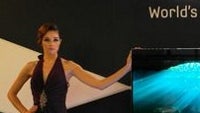 Samsung announced recently that it has gone past the
200 million AMOLED panels made
threshold, an important milestone in the over 5 years of display production. AMOLED stands for Active Matrix Organic Light Emitting Diode and brags with ultra deep blacks and low power consumption for dark colors. We saw the first AMOLED displays on phones years ago, but it seems that the mass popularity of this type of panels started with Super AMOLED, first introduced in the bada-based Samsung Wave and soon followed by many other handsets.
While AMOLED mass production started in January 2007, it picked up big recently. In the last 11 months alone, Samsung made 100 million displays. It took 4 and a half years for the first 100 million to get produced. If you're looking for average production, that will be around 100,000 AMOLED panels per day. Interestingly, if you pile up all AMOLED panels made so far you'd end up having a mountain 45 times taller than mount Everest!
But AMOLED displays are no longer a technology reserved for relatively small devices like phones and tablets - Samsung has brough a 55-inch TV with an AMOLED screen at this year's CES show. Not a bad development in just a couple of years, is it?