Samsung shows that the foldable form factor is more than a gimmick
41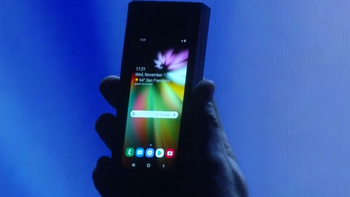 Today's brief appearance of Samsung's Infinity Flex display on a foldable phone revealed that the form factor could be more than just a gimmick. The device smoothly morphed from a smartphone into a 7.3-inch "tablet." In conjunction with the just unveiled One UI interface and Android's new "Foldables" interface, the ability to switch from a smartphone display into a larger screened tablet is more than just a superficial magic trick.

During the introduction of the foldable device, the company noted that an external "cover" screen will be available for "regular" smartphone type features, including the use of apps without opening the device. But when used as a tablet, the device will remember where you left off on an app when using the external display, and will take you right back there with the larger screen.
The entire keynote today, while perhaps not as exciting as Steve Jobs' 2007 unveiling of the
Apple iPhone
, was close in terms of the possibilities. Imagine how business users in the field will be able to use the device. Three apps can be open at the same time, offering pure multi-tasking for the user. Apps won't need to be closed in order to open a new one.
Smartphone shipments have been slowing, but this new platform could help put a charge into the industry next year. And with Google's Android OS fully on board, it is obvious that we could be coming to a major change in what smartphones look like and how they are used. If you watched the entire keynote from the Samsung Developer Conference, you might have experienced the same feelings you did when Steve Jobs held the first iPhone in his hand and showed the audience the future of the smartphone industry.
With mass production of Sammy's foldable phone expected to start in a few months, the smartphone industry looks ripe for some major changes led by an innovative team from Samsung.