Samsung estimated to ship 350 million smartphones globally in 2013 for a 40% market share
23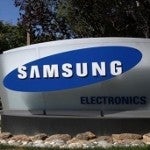 According to industry sources, Samsung is expected to ship half a billion handsets world-wide in 2013, with 350 million of them being smartphones. The sources claim that this information comes from internal Samsung estimates. With total global smartphone shipments for next year expected to be in the range of 860 million to 900 million, this would leave the Korean manufacturer with a better than
40% share
of the world-wide smartphone market in 2013.
Samsung Galaxy S III
and the
Samsung GALAXY Note II
, to prop up its line of mid-range models, has worked out for the company. Unlike Samsung's expanding list of devices, some smartphone producers have been
cutting back
in order not to dilute their high-end models. In that category you will find HTC, LG, Motorola and RIM.
Other manufacturers are continuing the policy of releasing a wide range of devices including Sony Mobile, ZTE, Huwai and Lenovo. The industry sources note that Sony and Lenovo have yet to roll out the kind of flagship phone that can help "
extend the life cycles
" of the other models in a manufacturer's lineup.
source:
Digitimes