Samsung employee reportedly swallowed incriminating docs during a price-fixing raid
53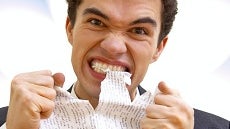 In light of the epic
Apple-Samsung trial for patent infringement
, a new tidbit sheds light on just how things at Samsung might have worked when it comes to new technologies introduced by other companies. It's not the first time Samsung has been accused in using someone's patents without licensing them for gaining market share in a new field, then settling with the affected company before any harm was done to its already established business there. Samsung also engaged in price-fixing regarding its existing lines of production, like TVs or DRAM modules, for which it has been fined numerous times prior to the debacle with Apple.
Some explain this with the secretive, loyalty-based structure and origins of the South Korean conglomerates, which elbow their way through the cutthroat business world with any legal or semi-legal method at their disposal, until they sit at or near the top. You can read our dedicated article for more information
what is a chaebol, and the history of Samsung in general
. We all know how the events unfolded in the Apple-Samsung trial, as Samsung used its usual tactic to countersue, minimize the damages asked, and then settle before any actual product ban has been imposed. In the meantime it became a leader in smartphone market share, so the effort definitely paid off, and this has been done by Samsung already a few times in other industries.
From what they heard, one of the Samsung employees there had even swallowed documents before the investigators were allowed in.
The loyalty and secrecy are so ingrained in Samsung's culture, it seems, that when investigators tried to raid one of its offices for phone price fixing allegations with local carriers, the employees inside blocked their access until the police arrived. In the meantime, they started destroying evidence -facility cameras showed later on that Samsung staff was swapping their work computers with benign ones, and shredding docs. The icing on the cake? One employee was caught actually tearing apart and eating documents, so as the investigators couldn't get a hold of them when they enter the premises. Fascinating stuff, happening not that long ago, in March of 2011. Apple's lawyers were even joking at the time that they can't expect results in a court of law from a company whose employees are willing to go to such lengths to protect any wrongdoing. The rest is history, but it will be interesting to see if there will be any repercussions from Apple about the fingerprint sensor embedded in the home key that came with the
Galaxy S5
about six months after Apple introduced its
Touch ID
finger scanner located precisely there on the
iPhone 5s
.