Jury in Apple-Samsung trial makes corrections to verdict documents, leaves damages unchanged
20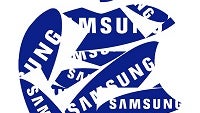 Friday's verdict in the latest installment of the Apple-Samsung soap opera
seemed like a close to the chapter in a drama that will forever haunt our lives. However, there was an error on the jury's verdict form. The error was an oversight on one of the patents. It was basically left out of the final tally.
The jury returned to the courthouse on Monday and made the necessary corrections to the paperwork. The jury ruled that Samsung had also infringed on the forgotten item, and awarded Apple $4 million.
However, instead of adding $4 million to the final tally, it shuffled other numbers from the awarded damages around and left the final bill at the previously reported $119.5 million. So, even though Apple was seeking at least $2 billion in damages, and even though the jury made an error in their arguably slap-on-the-wrist judgments, and even though the jury forgot one of the patents in dispute and had to account for damages, the outcome remains the same.
With these final corrections, now we can close the latest chapter in a world that is Apple and Samsung. As Samsung is appealing the $900+ million ruling against it from the previous litigation, it is probably likely we may see both sides appeal this as well. That means we will ever more be in a world that is Apple versus Samsung.
source:
PCWorld