Biometrics cage fight: Galaxy S5 Finger Scanner vs iPhone 5s Touch ID
20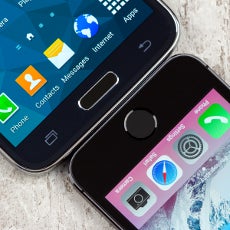 With the way our
mobile device biometrics poll is going
, people don't mind having things like fingerprint scanners on their phones, as long as they add convenience, and are built with security in mind. We've had fingerprint readers on electronics before, most notably on business-oriented laptops, and even on an Android phone, like Motorola's lovable
ATRIX 4G
.
Apple, however, shifted the mobile biometry paradigm with the unique
Touch ID
sensor, embedded in the home key of the
iPhone 5s
, that actually "senses" your fingerprint the second you lay your digit on the home key. This method provides more convenience during the everyday interaction with your phone, as it avoids the extra "swipe"
motion
that we've come to associate with such finger scanners so far. Besides unlocking the display, you can also use the sensor to ID purchase authorizations for your iTunes account, instead of keying in credentials, fast and easy.
Samsung was apparently bent to respond, and integrated a swipe Finger Scanner in the
Galaxy S5
's home key in its turn. Queue the copycat jokes here, but the two sensors actually work in quite a different manner. The iPhone's dimensions make Touch ID way easier to use with one hand, plus it only requires you to land your finger on the home key to work. The S5's size, and the the fact that its Finger Scanner works as, ahem, scanner, means you are at risk of dropping the handset while swiping over the home key with one hand, so it takes longer to muster. Samsung leverages its Finger Scanner for secure payment authorizations when purchasing content from Samsung services, too. It, however, also adds a convenient PayPal authorization, which works in 26 countries, namely US, UK, Ireland, France, Germany, Italy, Belgium, Netherlands, Luxembourg, Spain, Portugal, Austria, Denmark, Finland, Norway, Sweden, Switzerland, Poland, Turkey, Brazil, Argentina, Mexico, Russia, Australia, Singapore, and Hong Kong.
Upon initial setup, Apple's creation takes a "snapshot" of your fingerprint in all possible positions, so you can unlock the phone with the slightest touch, no matter how crooked your digit lands. The fingerprint scanner on the S5 stays true to its title, requiring you to swipe directly over the home key for it to work, which means that you usually have to hold the phone with the other hand. If you register your thumb by swiping it diagonally over the home key in the first place, however - the S5 will record this position, and you will be able to unlock the phone with one hand, where your thumb swipes slightly at angle to the home key. It worked most of the time for us, as you can see in the video below, so the Finger Scanner is indeed usable with one-handed navigation, just not as seamless as Apple's Touch ID method.