Samsung doesn't want to wait on Google, and builds its own ticket hub Wallet
30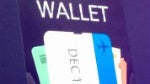 Every platform has its own version of a Wallet these days. Apple's iOS has
Passbook
, Microsoft's Windows Phone has the
Wallet Hub
, and Google's Android has
Google Now
(and
Google Wallet
to an extent as well.) Now, Samsung wants in on the game. Sammy doesn't seem to want to wait on Google to get things together and has introduced its own ticket hub called (obviously) Samsung Wallet.
There had been a rumor that Google was planning to turn Google Wallet into a ticket hub similar to what you'd find with Passbook or WP Wallet Hub, but it has been looking more and more like Google is leaving the ticket hub functionality to Google Now, which can now automatically display airline boarding passes and Fandango movie tickets. But, rather than put work into updating its devices to Android 4.1/4.2, Samsung would rather have its own ticket hub app it seems.
Samsung Wallet is being launched with support from Walgreens, MLB, Expedia, Booking.com, Hotels.com, and Lufthansa Airlines. It will also have an open API, which allows users to save tickets, boarding passes, coupons, and other cards to the app and access them all from one place. Notice the phrase "save", meaning information isn't pulled automatically from other apps. You will have to actively save the passes you need to the app in order to access them.
Samsung Wallet will not support mobile payments, but it will offer time and location based push notifications for the tickets you have added. Right now, Samsung Wallet API is in beta, but it will be officially launched on March 7th.