Samsung Galaxy S5 'Ultra Power Saving Mode' explained
31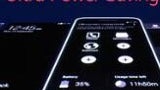 The
Samsung Galaxy S5
battery life would be the topic of heated debates in the next few weeks and months, but while most of you already know about the larger, 2800mAh battery that it packs, a neat new feature promises to do a lot for extreme battery savings. We're talking about the
'Ultra Power Saving Mode'
that employs draconian measures to squeeze the absolute maximum out of the S5 juicer - it turns off colors, and switches to a black and white mode, while at the same time flipping the switch on most connectivity options.
The end result can be summarized in just one sentence:
"If my Galaxy S5 is down to only 10% battery, it can still last up to 24 hours in standby."
That's how a Samsung executive briefly explained the benefits of the new power savings mode, and we think this speaks this is an impressive statement.
Battery life overall has been improved in the S5, and it should last 10 hours of web browsing and 12 hours of video. It also has a user-removable battery, so you can put in a new one when you can't reach the charger for days. But right now, take a look at our quick look at the new battery savings mode on the S5.