Samsung design patent pictures emerge – new whispers and mysteries around the Galaxy S6 Edge
4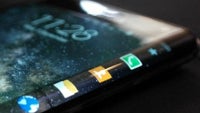 With MWC 2015 only a month away, we keep wondering – will Samsung really announce
two versions
of the Galaxy S6? Rumors say that the company may pull an Unpacked on us and, just like Sammy did back in September with the
Note 4
and
Note Edge
, unveil a Galaxy S6 and Galaxy S6 Edge. Not only that, but the alternative flagship may have
both its sides
curved, instead of just one.
Recently, a design patent, filed with the USPTO by Samsung, has been revealed, and it's definitely one that raises some questions. Firstly, it certainly represents a handset that has both the sides of its display curved, but the glass doesn't stop in a frame – it actually wraps around the body of the phone, allowing for some icons to be visible on the back of the phone, as well. Not only that, but the images show that the phone holds a pop-up part of some sort – its center can pop up and extend, but to what ends – we have no clue. Could this have something to do with charging, or is it a new method of fitting a replaceable battery, since its display would make a back panel tricky to place?
Of course, this is no concrete proof that the Galaxy S6 Edge is real, neither can we say that it is exactly what the handset would look like – we're not entirely sure that the technology to make such a wrap-around display is here yet –at least not one that's going to bring high yield and a good profit margin. But it is a good indication of what's going through Samsung engineers' minds, at least.