Samsung denied seeing the next iPhone and iPad, Apple denied banning Samsung's new gear
26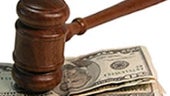 In a Solomon decision that restores our trust in the justice system, some of Apple's and Samsung's more outrageous requests in their
ongoing legal battle
were denied.
Samsung was said to "
overreach
" in its request to
see the next iPhone and the next iPad
for possible patent infringements. That must have come as an answer to the
Samsung "harassing" Apple comment
. The court said that while the idea of "
parity
" is understandable, given that Apple was granted the permission to see the
Samsung Galaxy S II
and
Samsung Galaxy Tab 10.1
last week, these are now on sale nationwide anyway, whereas the next iPhone and iPad have not been even announced yet. And the above sentence in legalese:
"
It is true that if Apple eventually introduces an iPhone 5 or an iPad 3 that diverges from the overall consistent look of the existing iPhone or iPad products, Apple might not be able to claim trade dress protection as to its entire line of products. As discussed above, however, Apple's decision to limit its claims to its trademarks and trade dress as embodied in products currently in the market is not unreasonable, and Samsung points to no authority suggesting that the Court must look ahead to unreleased, and possibly not-yet-developed, products in order to evaluate the overall look of an existing product line.Finally, the Court notes that the relative burden of producing unreleased products may be somewhat greater for Apple than for Samsung. When the Court considered the potential prejudice to Samsung of producing unreleased product samples, the Court emphasized that Samsung had already released significant information about its forthcoming products into the public domain.Indeed, in addition to the images and information released to the media, Samsung had recently released 5,000 samples of its Galaxy Tab 10.1 to members of the public.
Considering that images, descriptions, and actual samples of Samsung's forthcoming products were already publicly available, the Court found that the burden to Samsung of producing the latest iterations of those products, along with their packaging, was minimal. In contrast, Apple maintains a strict policy of not commenting on future products and takes extensive measures to protect information about its unreleased products. Unlike Samsung,Apple has not publicly announced or described the products Samsung seeks to obtain. Instead,Apple closely guards this information as a trade secret. However, while this difference carries some weight, the Court agrees with Samsung that the strict protective order required by the Court and stipulated to by the parties would provide adequate protection to both parties. Apple's contention that this protective order is sufficient for Samsung, but not for Apple, is not well-taken.The Court will not assume that outside counsel and experts who agree to strict confidentiality will nevertheless leak information about Apple's products, nor will the Court assume that Apple would face greater harm from the release of confidential information than would Samsung.
"
The court, on the other hand, denied Apple's request for the allegedly-infringing Samsung gear to be banned from selling nationwide, thus evening things out, and wiping everybody's tears. This is getting better by the day, we have to stock on popcorn.
source:
FOSSPatents