Samsung declined the opportunity to license Apple's patents in 2010
92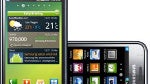 "Many more Apple patents are relevant to the Android platform. Apple has not authorized the use of any of these patents."-Apple
When opportunity knocks, you must answer the door. If you don't want to answer the door, at least look out that little peephole to see what the deal is. The latest word from the Apple v. Samsung patent trial is that Apple had given Samsung an opportunity as far back as 2010
to license some of its patents
, which might have eliminated some of, if not all of, the current legal bickering that has permeated the industry. While Apple would have preferred to be approached by Samsung for the licenses, Apple gave Samsung a chance to license the patents because it is a strategic supplier to Apple.
The deal offered by Apple would have Samsung pay $30 per smartphone produced by the Korean manufacturer and $40 for each tablet. If Samsung was willing to cross-license to Apple some of its patents, Apple said it would cut the licensing fee by 20%. By August 2010, the Cupertino based tech titan had begun to suspect that Samsung was infringing on Apple's design patents for its iconic smartphone. On October 5th 2010, Apple made a presentation to Samsung which included the licensing deal.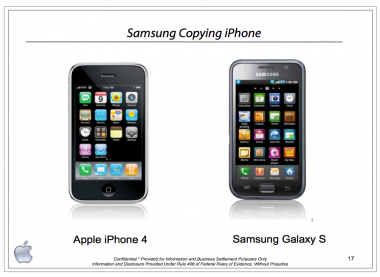 The cover of Apple's October 5th 2010 presentation to Samsung
According to Apple, had Samsung gone ahead with the licensing deal, it would have cost them $250 million for 2010 which was
less than the amount Apple was paying Samsung for components
at the time. The presentation was mentioned during the testimony of
Apple patent licensing director Boris Teksler
, who was on the stand Friday. Talking about the
Samsung Galaxy S
handset, Teksler told the jury, "
We didn't understand how a trusted partner would build a copycat product like that
." The licensing director told the court that both Apple CEO Steve Jobs and COO Tim Cook had spoken to Samsung about the alleged infringement of Apple's design patents for its Galaxy S handset.
Other than the talk of the presentation, Friday was a quiet day in the courtroom as Apple continued to parade its expert witnesses in front of the jury. Apple used the testimony of its experts to introduce to the jury two internal Samsung studies that showed that the Korean manufacturer needed to follow the Apple iPhone with its own similar model. The studies are similar to another Samsung document put into evidence that shows a
feature-by-feature comparison between the Samsung Galaxy S and the Apple Phone
and in the document,. Samsung executives suggested that it
makes its products more like Apple's
. Highlights of the study were read by Apple during the direct examination of some of its witnesses on Friday morning..
Meanwhile, Samsung has spent more time on cross examination of Apple's witnesses than the latter has spent on direct examination itself. As a result, Samsung appears to have already exceeded the 25 hour limit on questioning witnesses that Judge Lucy Koh has given both sides. And that is before Samsung starts presenting its case to the jury on Monday.
source:
AllThingsD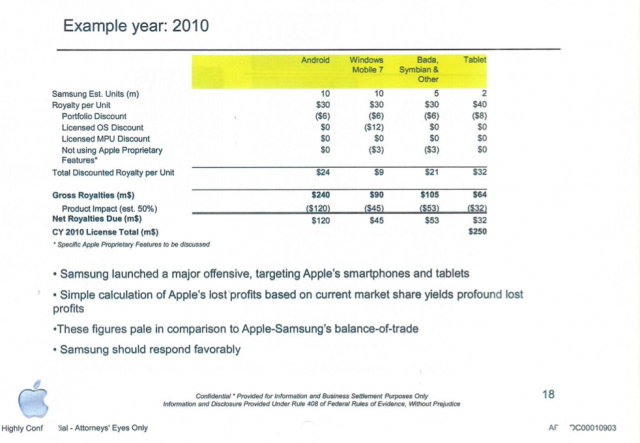 Samsung would have had to pay $250 million to Apple in 2010 to license its patents
Recommended Stories