Samsung confident it will beat Nokia, become the world's biggest phone maker in 2012
39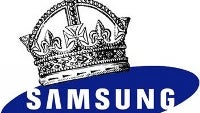 Samsung has spent just a single quarter as the world's biggest smartphone maker, but its chief executive is confident that the company will also dominate feature and smartphone sales combined in 2012. Samsung CEO Choi Gee-sung was convinced that
2012 will mark the end of Nokia's 14-year rule of the handset market
, and Samsung will take over.
The chief executive said that
Samsung has already zipped past Nokia
in terms of revenue in the latest reported quarter. Next stop? Shipped phones.
Current estimates show that Nokia is expected to have sold 418 million phones in 2011, while for Samsung that number is approximated at around 320 million.
Nokia's decline started first quietly after the launch of the iPhone in 2007, and after the company failed to react to the touchscreen craze with its Symbian devices, it was already too late for its MeeGo platform. After a top management shift in 2010, in February 2011 Nokia deserted its burning platforms and turned to Microsoft's Windows Phone. In the second quarter of 2011, Nokia lost its 10-year smartphone king title to Apple, and in the third quarter - to Samsung.
But Nokia is still very strong in developing markets - an area where Samsung will find it hard to fight the Finns. Analysts pointed out that in order for Samsung's forecast to come true in 2012, that would mean that the Nokia Windows Phone family will fail miserably or Samsung would need to make a bigger push in emerging markets.
Could Samsung beat Nokia in phone shipments as fast as this year? What has to happen for this? Chime in with your opinions below.