Samsung builds a Kinect-like image sensor capturing depth along with colors
4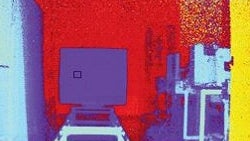 Here's a huge breakthrough - Samsung has built a CMOS camera sensor that captures not only images with the standard Red, Green and Blue colors, but also depth at the same time. This would allow future cameras with the sensor to act like a Kinect - possibly detecting the distance to an object and how it moves.
To achieve this Samsung has introduced the Z pixel for range and depth along with the R, G and B ones. The Z pixel is four times larger than the color pixels and measures at 2.25 x 9.0μm. This results in color images with a resolution of 1,920x720 pixels or 1.38-megapixels, and a depth image with a resolution of 480x360 pixels.
Now with the introduction of this new huge pixel, part of the information about the colors of an image goes missing. Samsung is interpolating results from the existing RGB pixels and using that to approximate pretty well the missing part.
The new sensor was built using 0.13μm CMOS image sensor technology, but it's not backside illuminated - it's rather FSI. Now, Samsung says that if BSI is used it's possible to double the quantum efficiency, which in simpler terms means that device's electrical sensitivity to light will double.
What this means in purely practical terms is plain exciting - we could have new ways to interact with our smartphones using motion and gestures, just like on Microsoft's Kinect.