Samsung begins testing Android 7.0 Nougat builds for the Galaxy S7
11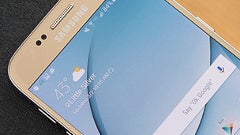 Unless you're running a Nexus (
soon to be Pixel
), Android updates can be a tedious, often fruitless waiting game. For the general plaudits Samsung garners for
nearly
all of its devices, the software updates can and do take a while, as is once again being demonstrated with
Android 7.0 Nougat
. Having been around for the best part of a month, it'll probably be a while before your recent Samsung Galaxy sees any of the tasty new flavor. The good news, though, is that preliminary testing appears to have commenced for one model.
With rumored testing of Nougat builds for the
Galaxy S7
in Europe, we'd probably be getting ahead of ourselves if we were to say that the wheels are in motion. However, progress is progress, and in Poland -- Samsung's European home from home -- software version G930FXXU1ZPI9 is being tested internally for the company's not-so-curvy flagship.
The report arrives courtesy of the good folks of
SamMobile,
whose Sammy-related tidbits are usually right on the money. Given the up-and-down nature of Android firmware roll-outs, we simply daren't offer even a ballpark guess on when Nougat might reach yours or anyone else's Galaxy S7. We don't want to jinx anything, but the smart money's on months, rather than weeks at this point.
Suffice to say, we'll surely keep you posted as the grand roll-out continues to develop.