Samsung backed by 27 law professors in the first patent lawsuit against Apple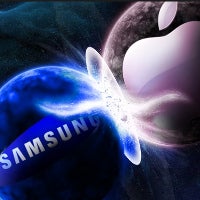 Several months ago, the first patent trial between Apple and Samsung concluded in favor of the Cupertino giant, as the federal jury found Samsung guilty of infringing on several of Apple's patents. As a result, the company from the Far East was to pay Apple some $929.8 million, but Samsung is appealing the court's decision to the Federal Circuit. This means that although the two companies
are reportedly in settlement talks
, the hatchet won't be buried anytime soon.
One of the more recent events that will undoubtedly add some fuel to the fire is an amici curiae declaration by 27 US law professors, who revealed that they actually support Samsung in the first patent trial. They sent a letter to the Federal Circuit, which states that fining the infringer by taking away any profits, which are gained thanks to the patents in question, is typical for the 19th century, when the subjects of such trials were carpets and not modern electronic gadgets.
Therefore,
the awarded sum of roughly $930 million
is rather high and completely unfair, the professors claim. If the Federal Circuit finds their argument relevant to the patent trial, the sum of money that Samsung has to pay could be lowered a little.
"The world is more complex than it was in 1887, and so are products. The likelihood that a product has more than one patented design is much greater than it was in 1887. Virtual designs on things like icons are particularly likely to overlap, and there are more and more of them. [...] And if there is more than one patented design in a product, the syllogism that the design patent drives the sale of the product falls apart,"
the letter claims.
Interestingly enough, three of the professors in question were apparently on Apple's side before. Professors Shubha Ghosh, Thomas Cotter, and Katherine J. Strandburg apparently supported Cupertino in its
FRAND-related trial against Motorola
.
Just a month ago, Apple won the second patent infringement trial, which included a set of newer devices, such as the
Galaxy S III
. This time,
Apple has to receive a trial award of $119.6 million
, but Samsung is appealing this verdict in the second instance court, as well.
source:
Amici Curiae
,
Foss Patents
via
SamMobile