Judge Posner throws out entire Apple v. Motorola suit
45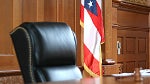 "No more can Apple be permitted to force a trial in Federal Court the sole outcome of which would be an award of $1."-Judge Posner
Earlier this month Judge Richard Posner of the United States District Court for the Northern District of Illinois,
threw out a patent suit between Apple and Motorola
saying that
neither side could prove that they were damaged by the actions of the other company
. And that would have been the end of the case, which had started back in 2010, except that Apple was granted its motion for an injunction hearing and the Judge decided to give both firms a chance to prove that they were damaged enough to require judicial relief.
After hearing from both sides once again, Judge Posner has slammed his gavel down on both Apple and Motorola and has dismissed the case. Of course, the only winners here are the attorneys
who walk away with a boatload of money
. For his part, Judge Posner had some rather harsh words for Apple in his order, saying that Apple needs to stop wasting Federal Court assets on what the Judge perceives to be minor violations.
"We are pleased that Judge Posner formally dismissed the case against
Motorola
Mobility. Apple's litigation campaign began with their attempt to assert 15 patents against us. As it relates to Apple's violation of our patents, we will continue our efforts to defend our own innovation." - Motorola
Source:
TheVerge
via
AndroidCentral
Recommended Stories