Samsung announces special Thom Browne edition of the Galaxy Z Flip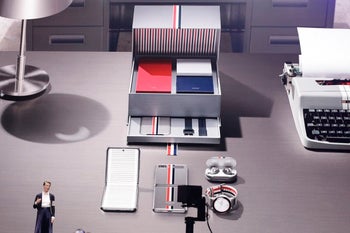 UPDATE
: Samsung has released more details about this limited edition set, including release dates, availability, and precisely what it will include.
As
WikiLeaks Korea
reported, the '
Galaxy Z Flip
Thom Browne Edition' is a special bundle created in collaboration with New York-based fashion designer Thom Browne. It will include a variant of the Galaxy Z Flip smartphone, Samsung's
Galaxy Watch
Active 2, and the newly announced Galaxy Buds Plus.
The bundle will be packaged in a special box along with a two-part hard case for the Z Flip, as well as two different watch bands for the smartwatch. Every product and the package itself is designed in Thom Browne's iconic color scheme, with the classic red, white, and blue stripe over a gray background.
Other than physical appearance, Samsung also altered the software of the Z Flip with custom wallpapers, icons, ringtones, and other sound effects to reproduce the refined elegance associated with the Thom Browne brand.
Software and aesthetic aside, the base device is the same as the conventional Galaxy Z Flip, featuring an expansive AMOLED display and a clamshell folding form factor. This design is augmented by unique software additions, which will allow for added functionality when using the camera, taking a video call, or using other popular apps.
The Galaxy Z Flip is powered by last year's top-notch Snapdragon 855 Plus processor, along with a respectable 3,300mAh battery, which sports a dual-cell design to accomodate the folding design. With a set of powerful specs, the Z Flip is expected to boast snappy performance to compliment its radical design. Find out
more about the phone here
, or read about our
first impressions from our Galaxy Z Flip hands-on here
.
The Galaxy Watch Active2, also included in the limited bundle, is Samsung's latest smartwatch, featuring a sleek design paired with strong battery life and polished Tizen OS software. Read our
full review of the smartwatch here
.
The final products in the bundle are Samsung's second-generation true wireless
earbuds
, the Galaxy Buds Plus. The earbuds offer active noise cancellation, clear audio, and excellent connectivity. Read
more about the new earbuds here
.
The special edition bundle will be made available for purchase on March 6 on Samsung's official website. Currently, the bundle is planned for online availability, but it may be made available for offline purchase at select stores in very limited quantities.
Original story continues below.
###
During the Galaxy Unpacked event today, Samsung announced its second foldable device, the Galaxy Z Flip. Along with the new launch, the company also revealed a new collaboration with American fashion designer Thom Browne for a special edition of the device.
Based on a video teaser revealed by Samsung, it appears that the collaboration will also include special versions of the Galaxy Watch and the new Galaxy Buds+, which will be bundled together in a limited edition set with a phone case as well. As far as looks go, the Thom Browne Galaxy Z Flip appears to be silver in color, with the brand's signature striped design emblazoned on the back.
The Galaxy Z Flip features a sleek clamshell design with a 6.7", foldable glass display and the world's first foldable screen with a hole-punch style camera. On the inside, it's powered by a Snapdragon 855 Plus chipset and a 3,300mAh battery.
Available in Mirror Purple and Mirror Black, the Galaxy Z Flip will be available in limited quantities in carrier and manufacturer-unlocked versions starting February 14, 2020 in select stores and online, starting at $1380. More details for the special edition bundle will be made known this week as part of New York Fashion Week.