Samsung announces next generation 5MP SoC sensor and 1GHz ARM CORTEX-A8 processor
1

Yesterday, Samsung announced their next generation 5-megapixel SoC (system-on-chip) sensor and 1GHz ARM CORTEX-A8 processor, both designed for smartphones and high-end devices.
The 5-megapixel sensor with the designation S5K4EA
should be able to finally bring mainstream digital camera quality to the cell phone market. It will sport autofocus and anti-shake functions, but the more interesting thing about it is the sensor will be able to capture
HD Video
at 30 frames per second. The manufacturer also vaunts the S5K4EA as a chip of extremely small size and therefore, perfect for building into cell phones that also comes with integrated noise and image cancellation technologies. We hope other manufacturers follow suit and do something about image quality rather than hype over the number of megapixels their sensors are packed with. The new 5-megapixel S5K4EA is expected to enter mass production at the beginning of 2010, although no devices that are to utilize it have been mentioned.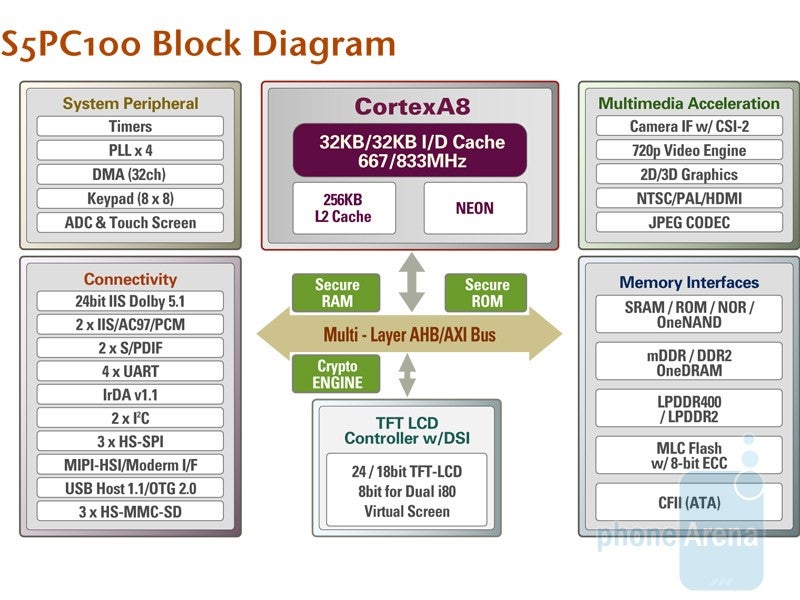 The manufacturer also announced a new cell phone processor, the S5PC110, running at 1GHz and based on the very same
ARM CORTEX-A8
architecture
that is currently in use with the 600MHz CPUs powering the
Palm Pre
,
iPhone 3GS
and
Samsung OMNIA HD i8910
. It sports 512MB L2 cache and is manufactured using 45nm lithography, which means it will probably be really battery-friendly. Samsung claims, the CPU has been designed for smooth and flawless multi-tasking, plus the chip boasts native support for HD video capture and playback at 30 frames per second. This makes us believe Samsung will probably offer it to other cell phone manufacturers, along with the brand new 5-megapixel SoC sensor. Information about the possible release date of devices equipped with Samsung´s new 1GHz processor is still unavailable though.
source:
NewsWire
,
more