Samsung and the NBA enter $100M deal to have tablets on the sidelines
14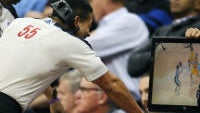 Get ready hoop-heads because the NBA season officially starts tomorrow! Of course, while some of us are NBA fans around here, we are a mobile tech website, so you know that there is a mobile hook to this story. A new report from the
Wall Street Journal
says that Samsung has signed a big deal with the NBA to supply the league with tablets and TVs that will be used courtside.
Sources are saying that Samsung and the NBA have signed a three-year deal worth $100 million. The NBA will be getting Samsung tablets and TVs to be used courtside for instant replays and other functions; and, of course Samsung suddenly gets a huge amount of exposure during NBA games, which is even bigger because the NBA is the most international of the four major sports in the U.S.
The NBA is also reportedly going to customize video for Samsung devices, but it is unclear what exactly that means. The report doesn't go into whether the Samsung devices will be Android or Windows-based, but given that they are referred to as tablets and not laptops, Android seems to be the more likely option.