Samsung and Microsoft reportedly looking towards to burying the war hatchet
17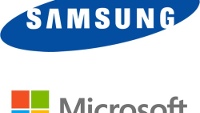 A few weeks ago, Microsoft filed in a lawsuit for Samsung in a New York court, as the largest smartphone vendor in the world allegedly hasn't been paying Redmond its
patent-related fees
. The two giants have been engaged in a cross-patent partnership for quite some time, but ever since Samsung's overall smartphone sales have increased more than 400%, the latter has reportedly been looking for a way to cancel the contract. According to a report from Korea Times, however, the two frenemies are now sitting on the table so as to iron out the differences between themselves and end the patent war outside a court of law.
"The key point is that Microsoft wants to settle the lawsuit and it's no surprise to see that the two technology giants have resumed 'working-level' discussions on how to dismiss lawsuits filed by Microsoft to a New York court,"
an industry insider told Korea Times this Sunday.
This temporary ceasefire would be beneficial for both Samsung and Microsoft, as they collaborate between one another on quite a few levels. Samsung uses a number of Microsoft-owned patents that regard the Android OS (for a fee, of course), while Redmond uses some Samsung-owned wireless patents on its own, too. Apart from patents, the two major corporations benefit from one another in the field of cloud computing and the recently-trendy Internet of Things. What's more, Samsung is one of Microsoft's largest partners that make use of the Windows Phone – well, not as often as it uses Android, that is.
"Samsung earlier promised to team up with Microsoft to promote Windows platforms and Windows-embedded mobile devices. If the two settles the lawsuit, then Samsung may show more attention for the development of Windows-powered devices,''
Korea Times was also told.
Unsurprisingly, both giants refused to talk about their complex and sensitive relations. However, if we consider how vital and essential the two companies are to each other, we can wager that they would succeed in finding common ground. Let's not forget that both of them are experiencing certain difficulties on the smartphone market - Samsung is faced against
declining earnings
and
market share
, while Microsoft's troubles have forced it to lay off
some of its workforce
.
source:
Korea Times
via
SammyHub