Samsung Wave S8500 unpacked, brings bada to the world
6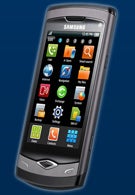 We heard it will be here, and here it is - the first bada powered phone, the
Samsung Wave S8500
. The phone definitely has the looks, but has it got the touch? Guess we can't tell you that just yet, but still we can describe this newly-born handset in detail at last. So the Samsung Wave S8500 nicely sized with its
3.3-inch Super AMOLED
touchscreen, with a resolution of 480x800 pixels, which is really nice for that diagonal. Basically, the Super AMOLED technology is said to deliver a clearer image, as compared to traditional AMOLED. Moreover, it should allow the phone to have a thinner body and longer battery life. Besides the new tech, the Wave's screen will be protected by a tempered glass, which sounds pretty nice to us.
Wondering what's the horsepower under the hood? Well, of course, a 1GHz Samsung processor, which should allow for 3D gaming and watching HD video! The 5-megapixel camera will also let you record in
HD resolution
. It goes without saying that the Samsung Wave S8500 is also equipped with features like Wi-Fi, GPS and Bluetooth, but the interesting thing is it will have support for Wi-Fi 802.11n and Bluetooth 3.0 (the first official phone to have it).
The interface on top of bada will be called... surprise:
TouchWiz 3.0
, which is quite similar to what we've seen from TouchWiz so far. There are some improvements of course, like the 10 home screen pages we now have. The Social Hub feature will integrate all your correspondence into one place, making it easier for you to manage your communications. The browser will be WebKit-based Dolphin 2.0 with one-touch zoom.
The Samsung Wave S8500 will become available in April, at a still unannounced price. Stay tuned for our hands-on for more information about the feel of this sleek device!
Samsung Wave S8500 Specifications
source: Samsung
Check

here for our complete coverage of the Mobile World Congress!