Samsung USA tweets that it is working to bring Froyo for the Galaxy S handsets ASAP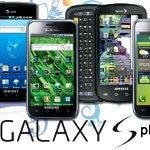 You know the old saying that software updates for phones in the US are slow as molasses compared to the other parts of the globe. Well, there's no such saying, but it's true, thanks to the rigid testing and troubleshooting procedures the manufacturers say are not present anywhere else.
Samsung knows how upset the users of the
Samsung Fascinate, Vibrant, Captivate and Epic 4G
are that they haven't received their serving of Froyo yet, but are stuck with Android
2.1
instead. In a somewhat stealthy manner, it sent a tweet from its Samsung USA Twitter account, which assures US
Galaxy S
owners that an update is in the works and will be available "as soon as possible".
Hardly a comfort, but at least Sammy is providing feedback, and with
4 million Galaxy S phones sold in the US
on four different carriers, it is surely a long undertaking for the manufacturer to negotiate with each and every of them what bloatware to include with the Froyo update exactly.
via
SamsungHub