Samsung Pixon now official, coming in mid-October
10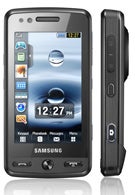 Friday
, we brought you the first information on the
Samsung Pixon,
as it has been announced in Russia and reviewed by local phone sites. Today is the day, on which Samsung announces it globally. The previous information pointed to mid-November, while the official press release mentions mid-October for France "and soon to be available in most of European countries and Asian countries."
This date puts it closer to the rival
LG Renoir
, which is also expected to ship next month. A curious fact is that the latter was touted by its manufacturer as "the slimmest 8MP phone on the market", however, it measures 13.9mm while the new Pixon is slightingly slimmer, at 13.8mm. Samsung of course mentions this in its press release, calling it "the world's slimmest full-touch 8-megapixel camera phone".
The new model is touted mainly for its camera-like design, options and picture quality. Although the manufacturer claims it is "even better than an actual camera" in some directions, we'd wait to review it to see if it will be able to compete with a pocket point-and-shoot stand-alone camera. As a camcorder, Pixon can capture videos in DVD resolution (720x480) or in QVGA with option for 120 frames per second. Last week, we said one of its greatest drawbacks when compared to the Renoir is that it supports DivX but not XviD. Well, the new information shows both are supported, so we'll be sorry only because it lacks Wi-Fi. Pixon is quad-band GSM with European 3G (UMTS at 2100 MHz) which will limit its usage in the U.S. as 2G-only phone, just as the Renoir and the OMNIA.
source: Samsung