Samsung PIXON M8800 – 8MP touchscreen phone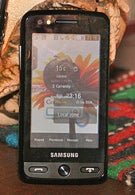 A few days ago, rumors about Samsung's second 8-megapixel phone, the "M8800 Bresson" appeared. Now it seems that it is already announced under the
PIXON M8800
model and even a few Russian sites have reviewed it.
We told you that LG is preparing
its second 8MP
cameraphone, a slider that will be more modest companion to the
Renoir KC910
touchphone. With Samsung, it is exactly the opposite. They already have the Symbian S60-powered slider
INNOV8
and the PIXON is a full touch candybar, to compete with the Renoir.
Unlike the
OMNIA
, the PIXON M8800 is not a smartphone and it uses software similar to the
F480
's. Of course, announced half a year later, it will have improvements, including a better camera interface (the one from OMNIA), DivX support, and more widgets. When we reviewed the F480 we didn't like its software, but Samsung has changed many things so we hope the new one will be much better.
The Samsung PIXON comes as a direct rival to the Renoir, with similar design, interface, 8MP camera and DivX video support. Both are GSM phones with 3G and GPS, but the LG also features Wi-Fi and XviD support. We'd wait to test both phones to see which one of the two Korean manufacturers has done a better job as a whole. Renoir is expected to launch first next month, while the PIXON will be on sale in mid-November, with a price tag of about EUR 550 ($800) according to Mobile-Review.
Check out
our gallery
for a few more pictures or head over to the source for its in-depth review.
source:
Mobile-Review
(translated)