Samsung Pay aiming for quick uptake by waiving all payment fees, in contrast to Apple Pay
16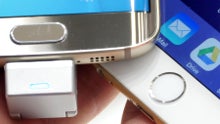 The beauty of Samsung's Pay solution that made a debut with the
Galaxy S6
, is the fact that it will work anywhere magnetic stripe credit and debit cards are accepted, or more than 10 million points worldwide.
Apple Pay
requires merchants to equip their POS terminals with dedicated systems, that is why the uptake has been somewhat slow so far, but Samsung's decision to
directly use LoopPay
might quickly make it the most widely used mobile payment system. Even Google was put in a frenzy by the Samsung Pay speculation, forcing it to acquire Softcard in a jiffy.
Now, a new report coming out of Korea, suggests that, unlike Apple, Samsung is waiving any fees associated with its fresh new mobile payment service. It won't charge the usual 0.0015% fee on each transaction, and that includes all of its credit/debit card partners in Korea, as well as online payment services.
Samsung's heir
recently met with one of PayPal's founders
, so they might be getting tips on how to earn market share in the quickest possible way, with fee waivers being one of the driving force behind the Samsung Pay expansion. Whether or not this will translate into abandoning the fee structure for US credit card and other payment companies that will work with Samsung's solution on this side of the pond, it remains to be seen, but Samsung will have to battle Apple Pay here, so it might just as easily translate the free mobile payments offering to US customers as well.