Samsung Instinct HD gets pricing and release date... still unofficial
This article contains unofficial information.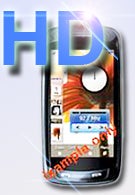 The
Samsung Instinct HD
for Sprint that many users are eagerly anticipating may be released on
September 27
, with a price tag of somewhere
between $99 and $149
. This information was reported by PhoneDog yesterday. This is all great, since it finally sheds some light on when we'll actually get this thing (if it is really coming out on Sep 27 that is). However, the problem is that the leaked product description mentions it will be able to "record and play videos in Hi-Res." Hey, this thing was supposed to offer HD video capturing! Or was it? Nobody has made any promises, so we guess we'll just have to cross our fingers and hope this "Hi-Res" will turn out to be more like Hi-Def. Check out these leaked photos too!
Samsung Instinct HD Preliminary Specifications
PhoneDog