How did Samsung manage to bend the cover glass of its foldable phone? A ton of Japanese suppliers
14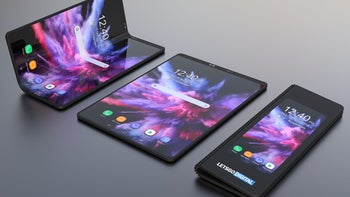 What's the most interesting question about Samsung's upcoming
foldable F-series
? Is it
the price
of the first phone in the line? The specs? Nah, it's how did Samsung manage to bend the cover glass without breaking it. like what you see in the
LetsGoDigital concept image
of the phone above!
The first of its kind supply chain analysis of the foldable device has
appeared in Korean media
, and it gives us the scoop. Samsung has collaborated with the Japenese from Sumitomo Chemical for producing a "luxurious" to the touch transparent polyimide that can be bent numerous times without any visible differences.
It will be attached to the flexible OLED panel underneath with an extremely durable and flexible adhesive that Samsung has been developing for years, and which will allow the package to bend at the middle by stretching a bit but not coming unglued. Called optical transparent adhesive film (OCA), this special type of elasticized adhesive can be bent thousands of times and retain its original size and form.
Another Japanese supplier, Nichido Denko, is said to produce the polarizer film for the bendy display, while the organic diodes themselves are of the type used in the current
Galaxy S9
or
Note 9
models.
That sounds like a lot of Japanese technology going into the
Infinity Flex
display, but at least the stretchy hinge will be
sourced locally, from KH Vatec
, and we can't wait to fold and unfurl the phone just for kicks.