Samsung Impulse 4G is going to be AT&T's very first 4G LTE enabled smartphone?
13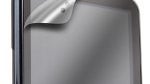 Now that AT&T is well under way in
selling 4G LTE mobile broadband devices
, our attention is now focusing on what we'll see in terms of 4G LTE smartphones from the carrier, which they've said would become
available later in the year
.
Out of the blue, we're getting news about the
Samsung Impulse 4G
– a device that's believed to be AT&T's very first LTE enabled smartphone. As you can tell from the leaked images of the handset, its overall shape and design is reminiscent to the ones found on the Samsung Droid Charge and Focus. Granted that we're greeted with an image of the handset, no other information is known about it – like its release date or specs.
As much as we're delighted to see that 4G moniker plopped onto its name, we're still hesitant about it all since the 4G name is currently gracing some of the carrier's HSPA+ enabled smartphones. Additionally, the Samsung Impulse 4G could simply be yet another HSPA+ device with enhanced backhaul.
In the meantime, let's not get ahead of ourselves since we're still waiting for AT&T to turn on their next-generation data network.
source:
BGR
via
AndroidCentral